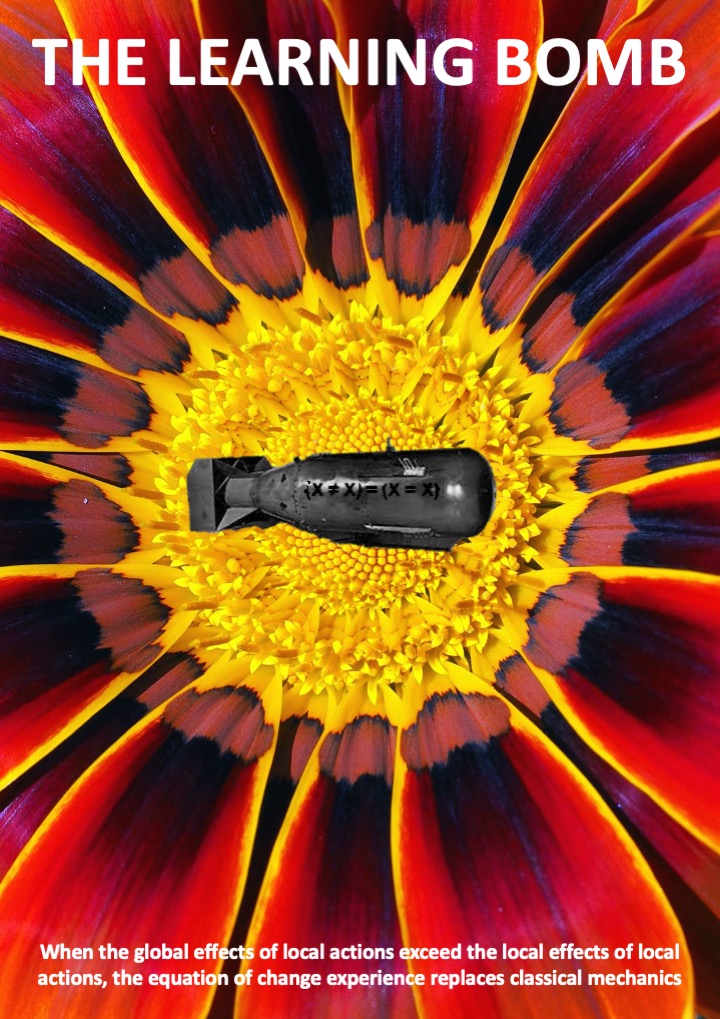 As a part of a new experimental seminar-design called "Learning in chaos", a revised set of tools and a makeshift online workbook in English has been assembled. The purpose of the seminar and the workbook is to support you in understanding and living with global overflow and strange effects.
The workbook is a collage of extracts from texts and books available on byebyespacetime.com. It is an alternative to the complexity of the website and provides a good starting point for anyone wishing to dive into the philosophy of Thomas Heide and its application as a tool for learning – and living – in chaos.
The dramatic graphical frontpage of this workbook has a history. It explains the meaning and purpose of the equation of change experience as stand alone:
The equation of change experience is the macro mechanical counterpart to the energetic particle(s) used to initiate chain reactions in the atomic realm. When the equation has been launched, the process is irreversible.
In the first half of the 20th century some of the brightest and most powerful people of that time united to build and launch a bomb of incredible destruction.
Growing up in the shadows of the cold war and the weapons race, my work as a 21st century philosopher could be summed up as an attempt to recalibrate space time in response to the devastating success of the first generation of nuclear physicists.
Hence, one way to put my contribution into perspective, would be to call it "the learning bomb":
When the global effects of local actions exceed the local effects of local actions, the equation of change experience replaces classical mechanics.
The equation of change experience is a universally valid and sustainable foundation for learning in correspondence with the nature of fully entangled and chaotically experienced global systems.
The equation can support you in facing the overwhelming challenges of living simultaneously in a local and a global reality, who ever you are and where ever you are, regardless of your privileges and societal status.
Click on the above picture or download the workbook for free here.
For access to the complete archive of texts and books by Thomas Heide, please go here.